Logged in as AnonymousUser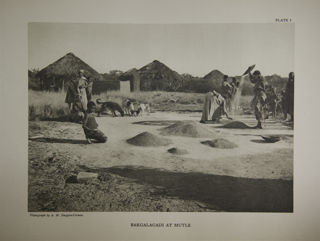 Image
Plate I.jpg
Photographic plate published in Lestrade 1929 (Vol. II, Plate I) captioned, "Bakgalagadi at Mutle" taken in the Mutle r…
Photograph
Photograph of women winnowing grain. Caption: "Plate I: Bakgalagadi at Mutle".
(687.5) 069.7: 572. 9(68) (084.12)

This photo was taken in 1919 in Mutle by Alfred Martin Duggan-Cronin: "Mutle is a Kgalagadi village near Molepolole. The women at the threshing floor are winnowing grain. The people still live pretty much as they did when Livingstone saw them, though even here the European skirt is coming in. [K-word] dogs abound in Bechuanaland."
Receives connections from