Logged in as AnonymousUser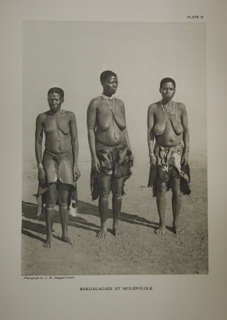 Image
Plate II.jpg
Portrait photographic plate published in Lestrade 1929 (Vol. II, Plate II) captioned, "Bakgalagadi at Molepole" taken i…
Photograph
Portrait photograph of three Bakgalagadi girls in traditional Bechauna attire. Caption: "Plate II: Bakgalagadi at Molepole".
(687.5) 069.7: 572. 9(68) (084.12)

This photo was taken in 1919 in Molepolole by Alfred Martin Duggan-Cronin: "These girls had come into the Kwena stad (town) from their own village some distance away. Their dress is that of the old Bechuana, a leather apron (khiba) in front and a short leather skirt (mosèsè) behind. In dressing skins the Bechuana often use the root-stock of the elands boontje (Elephantorrhiza Burchellii Benth.). This contains much tannin, imparts a rich tan colour to the skins and prevents the hair from falling off."
Receives connections from