Logged in as AnonymousUser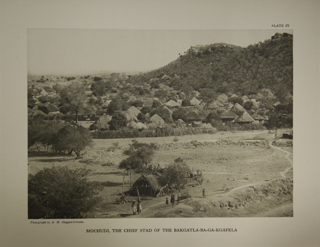 Image
Plate IV.jpg
Portrait photographic plate published in Lestrade 1929 (Vol. II, Plate IV) captioned,"Mochudi, the chief stad of the Ba…
Photograph
Photograph of the Mochudi landscape. Caption: "Plate IV: Mochudi, the chief stad of the Bakgatla-Ba-Ga-Kgafela".
(687.5) 069.7: 572. 9(68) (084.12)

This photo was taken in 1919 in Mochudi by Alfred Martin Duggan-Cronin: "Only a small portion of the chief town of these BaKgatla, one of the largest in Bechuanaland, is here shown. The Bakgatla Reserve contains upwards of 12,000 persons. Most of the huts of the well-to-do are neatly thatched in Cape-Dutch style, those of the poorer class in rough Chuana fashion. The houses are arranged in clusters, with irregular streets in between, while here and there is a more open space containing a cattle-stockade, a meeting place, or the like."
Receives connections from