Logged in as AnonymousUser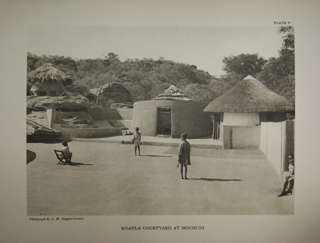 Image
Plate V.jpg
Photographic plate published in Lestrade 1929 (Vol. II, Plate V) captioned, "Kgatla Courtyard at Mochudi" of a courtyar…
Photograph
Photograph of a courtyard in Rakabane's home. Caption: "Plate V: Kgatla Courtyard at Mochudi".
(687.5) 069.7: 572. 9(68) (084.12)

This photo was taken in 1919 in Mochudi by Alfred Martin Duggan-Cronin: "Rakabane's home, of which this is the courtyard, large, beautiful and spotlessly clean, is the pride of Mochudi. Note the different kinds of thatching on the huts and on the granary (sefala) on the rise. This type of granary is made of clay, and is raised off the ground to exclude termites."
Receives connections from