Logged in as AnonymousUser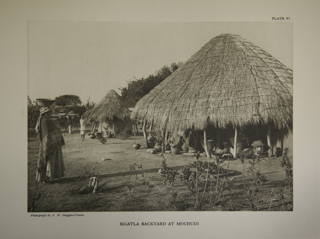 Image
Plate VI.jpg
Photographic plate published in Lestrade 1929 (Vol. II, Plate VI) captioned, "Kgatla Backyard at Mochudi" of servant's …
Photograph
Photograph of servant's quarters, outdoor pantry, and granary. Caption: "Plate VI: Kgatla Backyard at Mochudi".
(687.5) 069.7: 572. 9(68) (084.12)

This photo was taken in 1919 in Mochudi by Alfred Martin Duggan-Cronin: "This plate shows the servants' quarters, with out-of-doors pantry, granary, and in the foreground tobacco plants. The tobacco is usually used for snuff making, but some of it will also be smoked. The woman is carrying the typical cone-shaped Chuana grain basket (tlatla) on her head. In the pantry in addition to beer pots there are a few small covered grain bins for daily use."
Receives connections from