Logged in as AnonymousUser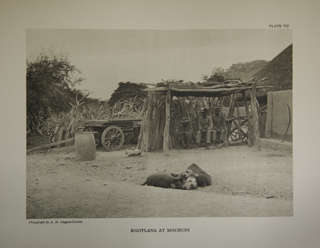 Image
Plate VII.jpg
Photographic plate published in Lestrade 1929 (Vol. II, Plate VII) captioned, "Kgotlana at Mochudi" of a headman's kgo…
Photograph
Photograph of a headman's kgotlana. Caption: "Plate VII: Kgotlana at Mochudi"
(687.5) 069.7: 572. 9(68) (084.12)

This photo was taken in 1919 in Mochudi by Alfred Martin Duggan-Cronin: "This is a headman's kgotlana as distinguised from the larger kgotla of the chief. Here the administration and general affairs of the town ward are transacted by men, women being only admitted in certain occassions, for instance as witnesses. More often than not there is a small fire. Pigs scour the pathways but are not allowed in the stockades. The wagon is used for heavier traction. For light traction a sled (seshwai) is used."
Receives connections from