Logged in as AnonymousUser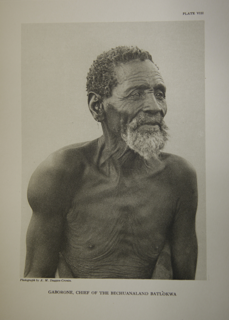 Image
Plate VIII.jpg
Portrait photographic plate published in Lestrade 1929 (Vol. II, Plate VIII) captioned, "Gaborone, Chief of the Bechuan…
Photograph
Portrait photograph of Chief Kgosi Gaborone. Caption: "Plate VIII: Gaborone, Chief of the Bechuanaland Batlòkwa".
(687.5) 069.7: 572. 9(68) (084.12)

This photo was taken in 1919 by Alfred Martin Duggan-Cronin: "The last of the old Chuana chiefs, he still adheres to his national form of clothing , though nearly all the others have adopted European dress. He has a very fine type of Chuana old man's face. He is now about 103 years old."
Receives connections from