Logged in as AnonymousUser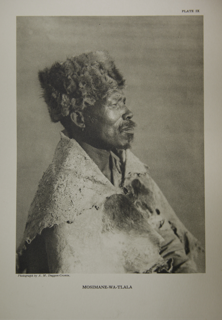 Image
Plate IX.jpg
Portrait photographic plate published in Lestrade 1929 (Vol. II, Plate IX) captioned, "Mosimane-Wa-Tlala" a Kwena karos…
Photograph
Portrait photograph of Mosimane-Wa-Tlala, a Kwena kaross maker. Caption: "Plate IX: Mosimane-Wa-Tlala".
(687.5) 069.7: 572. 9(68) (084.12)

This photo was taken in 1919 in Molepolole by Alfred Martin Duggan-Cronin: "A Kwena kaross maker at Molepole, wearing a kaross (kobò) and skin cap (puane). His name signifies "boy of hunger," from which we may infer that he was born during or soon after one of the seasons of drought that sometimes afflict Bechuanaland."
Receives connections from