Logged in as AnonymousUser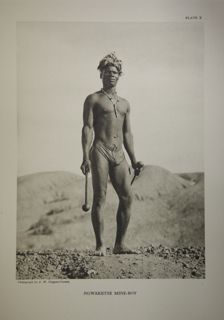 Image
Plate X.jpg
Portrait photographic plate published in Lestrade 1929 (Vol. II, Plate X) captioned, "Ngwaketse Mine-Boy" taken in Kimb…
Photograph
Portrait photograph of an Ngwaketse mine boy. Caption: "Plate X: Ngwaketse Mine-Boy"
(687.5) 069.7: 572. 9(68) (084.12)

This photo was taken in 1919 in Kimberley by Alfred Martin Duggan-Cronin: "Photographed in one of the compounds of the De Beer's Co., Kimberley. He wears the skin cap (puane) and the loin-skin (tshega), characteristic of the Chuana tribes. The pendant of wood, often finely carved, contains an awl, used in kaross making and for extracting thorns from the feet. It is only worn by men who have passed through the initiation school. He carries the short knobkerrie (molamu) formerly used in war."
Receives connections from