Logged in as AnonymousUser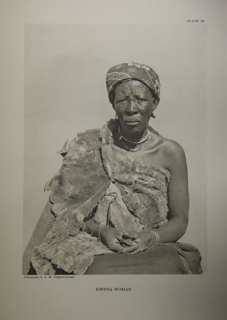 Image
Plate XI.jpg
Portrait photographic plate published in Lestrade 1929 (Vol. II, Plate XI) captioned, "Kwena Woman" of a Kwena woman ta…
Photograph
Portrait photograph of a Kwena woman. Caption: "Plate XI: Kwena Woman".
(687.5) 069.7: 572. 9(68) (084.12)

This photo was taken in 1919 by Alfred Martin Duggan-Cronin: "Notice the half-squinting expression, possibly the result of sun-glare. Her face is very typical of the older woman among these people. The kaross is Chuana, but the rest of her attrire, including the gaily coloured duku (from the Dutch "doek," cloth) is store-bought."
Receives connections from