Logged in as AnonymousUser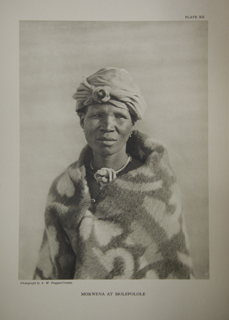 Image
Plate XII.jpg
Portrait photographic plate published in Lestrade 1929 (Vol. II, Plate XII) captioned, "Mokwena at Molepolole" taken in…
Photograph
Portrait of a Mokwena woman at Molepolole. Caption: "Plate XII: Mokwena at Molepolole".
(687.5) 069.7: 572. 9(68) (084.12)

This photo was taken in 1919 in Molepolole by Alfred Martin Duggan-Cronin: "Her face is of the pure Chuana type. Note the so-called lip seam, which is very distinct in this subject. Her gaily coloured blanket and her headdress are European importations."
Receives connections from