Logged in as AnonymousUser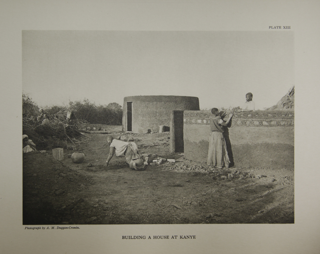 Image
Plate XIII.jpg
Photographic plate published in Lestrade 1929 (Vol. II, Plate XIII) captioned, "Building a house at Kanye" taken in Kan…
Photograph
Photograph of a house being built in Kanye. Caption: "Plate XIII: Building a house at Kanye".
(687.5) 069.7: 572. 9(68) (084.12)

This photo was taken in 1919 in Kanye by Alfred Martin Duggan-Cronin: "The beginnings of the old circular type of hut are shown on the left. In the old days, the men cut the poles for the rafters, central pole and veranda-poles, and built and put on the roof. The women built the walls, thatched the roof and attended to all the other details of finishing-off, including the decoration of the walls. Nowadays, as here, the men often help in all the processes. "
Receives connections from