Logged in as AnonymousUser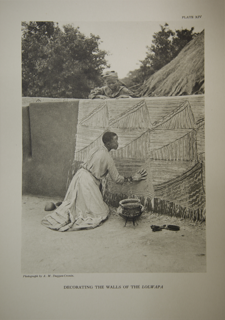 Image
Plate XIV.jpg
Photographic plate published in Lestrade 1929 (Vol. II, Plate XIV) captioned, "Decorating the walls of the Lolwapa" tak…
Photograph
Photograph of a Kgatla girl decorating the walls of a Lolwapa. Caption: "Plate XIV: "Decorating the walls of the Lolwapa".
(687.5) 069.7: 572. 9(68) (084.12)

This photo was taken in 1919 by Alfred Martin Duggan-Cronin: "The Bechuana take great pride in the decoration of the walls and floors of their huts and courtyards. This Kgatla girl walked five miles to obtain the grey clay which she is spreading over the brick-red wall. Sometimes native pigments are applied with a brush or the ornamentation may take the form of variously shaped apertures in the wall."
Receives connections from