Logged in as AnonymousUser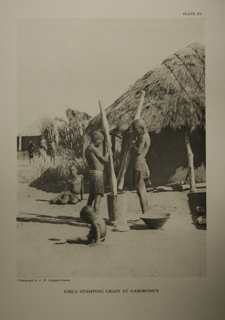 Image
Plate XV.jpg
Photographic plate published in Lestrade 1929 (Vol. II, Plate XV) captioned, "Girls stamping grain at Gaborone's" taken…
Photograph
Photograph of girls stamping grain at Gaborone's village. Caption: "Plate XV: Girls stamping grain at Gaborone's".
(687.5) 069.7: 572. 9(68) (084.12)

This photo was taken in 1919 by Alfred Martin Duggan-Cronin: "The kika or mortar, and the motshe or pestle, are essentials in the Chuana kitchen. These girls are BaTlòkwa. They have first wetted the grain which they are pounding to prevent it from flying about at each stamp of the pestle. They sing as they pound the grain and keep time to the music. Sometimes as many as four persons may assist at the same kika and the work is expeditiously and cheerfully performed. "
Receives connections from