Logged in as AnonymousUser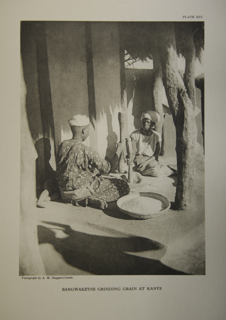 Image
Plate XVI.jpg
Photographic plate published in Lestrade 1929 (Vol. II, Plate XVI) captioned, "Bangwaketse grinding grain at Kanye" tak…
Photograph
Photograph of Bangwaketse women grinding corn. Caption: "Plate XVI: Bangwaketse grinding grain at Kanye".
(687.5) 069.7: 572. 9(68) (084.12)

This photo was taken in 1919 in Kanye by Alfred Martin Duggan-Cronin: A stone mortar (lehudu) is being used. At one time the lehudu was frequently seen, especially when wood was scarce, but now it is disappearing. This one is sunk into the ground."
Receives connections from