Logged in as AnonymousUser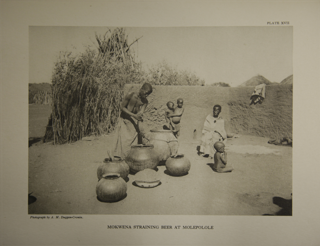 Image
Plate XVII.jpg
Photographic plate published in Lestrade 1929 (Vol. II, Plate XVII) captioned, "Mokwena straining beer at Molepolole" t…
Photograph
Photograph of a Mokwena woman straining beer. Caption: "Plate XVII: Mokwena straining beer at Molepolole".
(687.5) 069.7: 572. 9(68) (084.12)

This photo was taken in 1919 in Molepolole by Alfred Martin Duggan-Cronin: "The beer is made from sprouted [K-word] corn (momela), and the thick gruel thus obtained is strained through a grass strainer (motlhòtlhò) common in type to all the South African Bantu. The enamelled dish in the foreground contains the dregs which are given to pigs or children. The large beer-pot (nkgò) is strengthened with strips of bast (kgofati). The smaller pot (nkgwana) is the serving bowl from which the portions for the guests are ladled out by the host or hostess."
Receives connections from