Logged in as AnonymousUser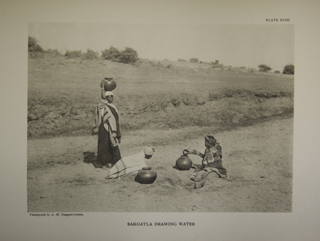 Image
Plate XVIII.jpg
Photographic plate published in Lestrade 1929 (Vol. II, Plate XVIII) captioned, "Bakgatla Drawing Water" of Bakgatla wo…
Photograph
Photograph of Bakgatla women drawing water. Caption: "Plate XVIII: Bakgatla Drawing Water".
(687.5) 069.7: 572. 9(68) (084.12)

This photo was taken in 1919 by the Moshupa river by Alfred Martin Duggan-Cronin: "The women are drawing water from holes dug in the dry bed of the Moshupa river. For this purpose the useful calabash is used as a scoop. Leaves are often placed on top of the water in the pot, to prevent it spilling as a result of the bearer's movement in walking. A great portion of the Chuana woman's time, at least in winter, the dry season, is spent in fetching water, often at a great distance from her home."
Receives connections from