Logged in as AnonymousUser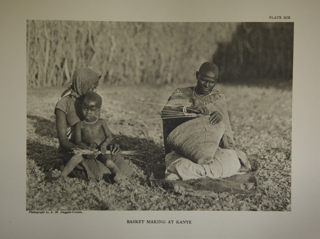 Image
Plate XIX.jpg
Photographic plate published in Lestrade 1929 (Vol. II, Plate XIX) captioned, "Basket Making at Kanye" of a MoNgwaketse…
Photograph
Photograph of a MoNgwaketse making a basket. Caption: "Plate XIX: Basket Making at Kanye".
(687.5) 069.7: 572. 9(68) (084.12)

This photo was taken in 1919 in Kanye by Alfred Martin Duggan-Cronin: "This MoNgwaketse is making a conical grain-basket (tlatla), constructed with a concave base so as to fit the head, on which it is carried. On this base spiral coils of grass are wound in ascending layers, increasing in circumference the higher their position, and each layer is bound to the layer below and to the base by strong intertwining binding-strips."
Receives connections from