Logged in as AnonymousUser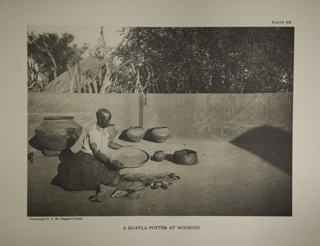 Image
Plate XX.jpg
Photographic plate published in Lestrade 1929 (Vol. II, Plate XX) captioned, "A Kgatla Potter at Mochudi" taken in Moch…
Photograph
Photograph of a Kgatla potter. Caption: "Plate XX: A Kgatla Potter at Mochudi".
(687.5) 069.7: 572. 9(68) (084.12)

This photo was taken in 1919 in Mochudi by Alfred Martin Duggan-Cronin: "In each town there are a few professional potters. Special earths are used, and from these the pot-clay is seperated by a process of gravitation in the winnowing basket used for sifting corn (losèlò).
This woman makes a good living out of her art, and keeps the proceeds for herself, though her husband gets a small fee for delivering the products to customers. Contrary to popular conceptions, pot-making is not an art universally known to the women, and a woman who is an expert at this industry can command considerable custom from numerous households."
Receives connections from