Logged in as AnonymousUser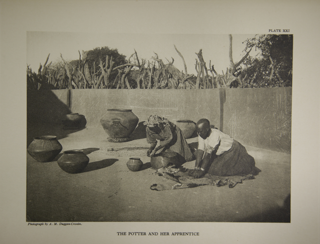 Image
Plate XXI.jpg
Photographic plate published in Lestrade 1929 (Vol. II, Plate XXI) captioned, "The Potter and her Apprentice" taken by …
Photograph
Photograph of a potter and apprentince. Caption: "Plate XXI: The Potter and her Apprentice".
(687.5) 069.7: 572. 9(68) (084.12)

This photo was taken in 1919 by Alfred Martin Duggan-Cronin: "While the potter kneads the dough her apprentice builds up the body from strips of it, moulds the neck, inverts the half-finished pot and applies the base. A finished pot (pitsa) is standing on a grass ring (kgare). The shape of the pots, with inverted conical upper half, and rounded bottom, is typical."
Receives connections from