Logged in as AnonymousUser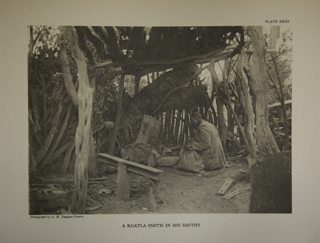 Image
Plate XXIII.jpg
Photographic plate published in Lestrade 1929 (Vol. II, Plate XXIII) captioned, "A Kgatla smith in his smithy" taken by…
Photograph
Photograph of a Kgatla smith using his bellows. Caption: "Plate XXIII: A Kgatla smith in his smithy".
(687.5) 069.7: 572. 9(68) (084.12)

This photo was taken in 1919 by Alfred Martin Duggan-Cronin: "The blacksmith is using bellows (mouba) made of the skin of a steenbok. Connecting the bellows with the fire is a nozzle of earthenware made by the smith himself. His anvil is an old rail, but formerly a stone was used. The Bechuana seem to have been acquinted with the art of smithing since quite early times. The position of the smith is an honourable one."
Receives connections from