Logged in as AnonymousUser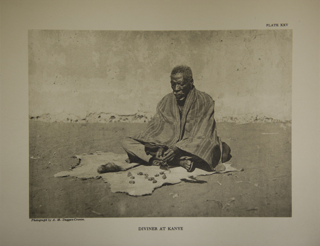 Image
Plate XXV.jpg
Photographic plate published in Lestrade 1929 (Vol. II, Plate XXV) captioned, "Diviner at Kanye" taken in Kanye by Alfr…
Photograph
Photograph of a diviner with his divining bones. Caption: "Plate XXV: Diviner at Kanye".
(687.5) 069.7: 572. 9(68) (084.12)

This photo was taken in 1919 in Kanye by Alfred Martin Duggan-Cronin: "This is a ngaka with his divining-bones (ditaola) spread, in the ritual manner, on a skin. He sits cross-legged in the fashion proper for diviners. His whisk (seditshè) is somewhat unusual in that it terminates in a jackal's tail instead of the more common ox-tail. The whisk may be used as a fly whisk in the ordinary way, or it may be used to spray people and objects with his medicines."
Receives connections from