Watch the webinar recording
"Digital Storytelling in the Global South: Utilizing Spatial Archives for Diverse Audiences" explores how archaeologists, historians, museum experts, and educators can engage with emerging digital spatial technologies to explore the past alongside the public.
Digital storytelling is widely used in libraries, schools and community centres as a form of public engagement that enables users to share personal stories and to produce novel, multiple, complementary and, at times, conflicting knowledge. Within education, it enables self-directed exploration for students; it has been an equally powerful mechanism to raise awareness of marginalised and contested histories through the co-creation of heritage. In particular, 2.5D and 3D spatial data derived from remote sensing and geospatial technologies can be used both for an engaging user experience and to link objects and features together through space and time and illuminate complex relationships.
Yet, the premise of digital storytelling with spatial data is the existence of digital archives and a digital platform that facilitate the creative process. It must further be accessible by both content producers and consumers. The lack of one or all is a hindrance to its implementation across the Global South. The size, structure, and complexity of spatial data archives elicits additional technical considerations. Substantial progress made in ensuring that digital data and infrastructure complies with the principles of FAIR (findability, accessibility, interoperability, and reusability) and LOUD (linked open usable data). However, democratizing the digital humanities means new challenges to match the ever-changing digital landscape: increasing access to the latest forms of spatial technologies despite limited access to resources and training, and fostering equitable participation in digital storytelling.
"Digital Storytelling in the Global South" brings together experts in archaeology and beyond to discuss:
Storytelling with spatial archives, on how various forms of spatial data can be incorporated into and structured within archival databases for digital storytelling;
Digital infrastructure in low-resourced environments, on the logistical challenges with connecting audiences with varying technical competencies, computer and internet speeds, and cultural understandings and language barriers to resources associated with digital publication;
Digital storytelling and the narrative voice, on how marginalized voices and perspectives can be integrated into digital storytelling process, empowering communities to engage with storytelling in self-directed, generative ways that deepen connections to cultural heritage.
Each theme is an hour in length, with time dedicated equally to presentation and audience participation.
The webinar is supported by the project, Digital Storytelling on African Urbanisms: A Model to Empower Education Initiatives Across the Global South (PIs Dr. Carla Klehm, University of Arkansas and Dr. Stefania Merlo, University of Cambridge; HND-284967-22), as part of the National Endowment for the Humanities (US) and Arts and Humanities Research Council (UK) joint program, "New Directions for Digital Scholarship in Cultural Institutions." Digital Storytelling on African Urbanisms explores how to best empower secondary school, university, and museum educators to use an open-source prototype database about precolonial African cities for storytelling and virtual exploration. The archive, Metsemegolgolo ('ancient towns' in Setswana), contains archaeological data, heritage objects, historical maps, oral histories and poetry on precolonial African urbanisms in South Africa and Botswana.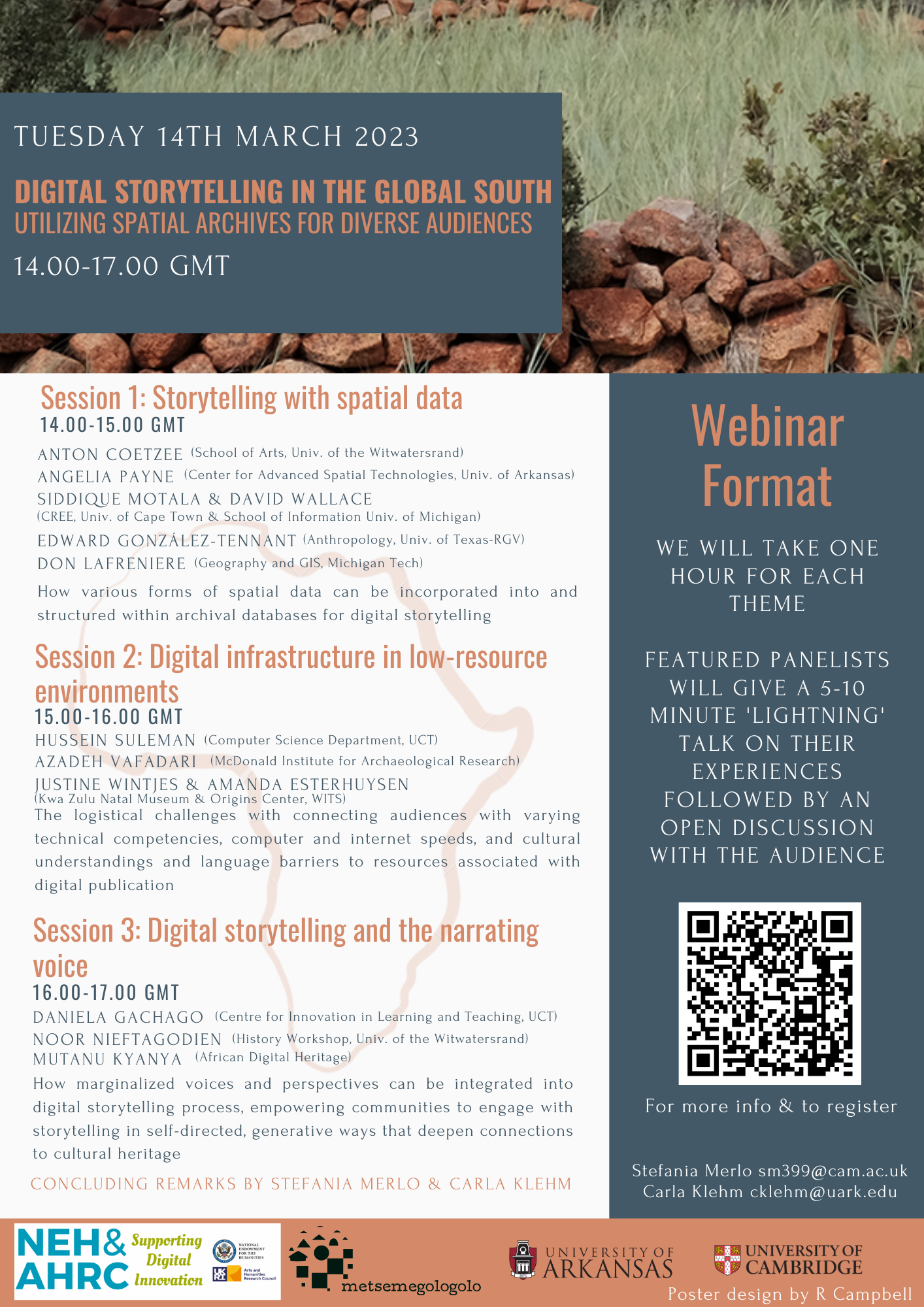 ---
Webinar Recording
Session 1: Storytelling with spatial data
This session features presentations by Anton Coetzee (School of Arts, University of Witwatersrand), Angelia Payne (Center for Advanced Spatial Technologies, University of Arkansas), Siddique Motala (CREE, University of Cape Town) with David Wallace (School of Information, University of Michigan), Edward Gonzalez-Tennant (Anthropology, University of Texas-RGV), and Don Lafreniere (Geography and GIS, Michigan Tech).
Session 2: Digital infrastructure in low-resource environments
This session features presentations by Hussein Suleman (Computer Science Department, UCT), Azadeh Vafadari (McDonald Institute for Archaeological Research), Justine Wintjes (Kwa Zulu Natal Museum) with Amanda Esterhuysen (Origins Center, WITS).
Session 3: Digital storytelling and the narrating voice
This session features presentations by Daniela Gachago (Center for Innovation in Learning and Teaching, UCT), Noor Nieftagodien (History Workshop, University of the Witwatersrand), and Mutanu Kyanya (African Digital Heritage).